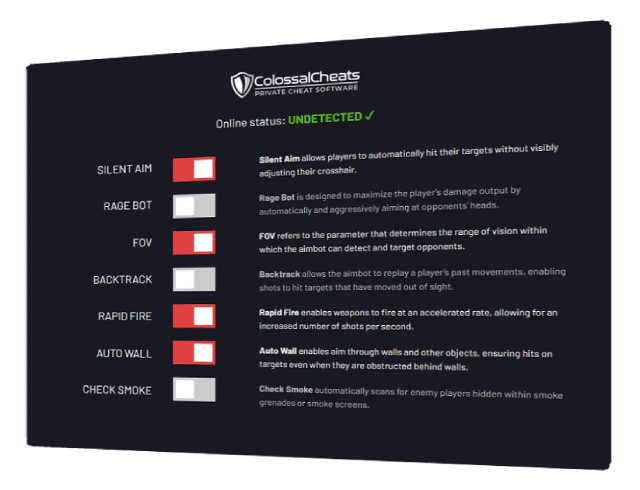 Dominate with Private CSGO Cheats
You might have skills in Counter Strike Global Offensive. Maybe you're good at splattering your opponent's heads off. Sometimes you get an ace. All these are good, but don't you ever wish you had an extra edge over your opponents?
Our free CSGO hack has all the features you need and can bypass more anti-cheats than any other hack provider. With our hack you can even bypass FaceIt, VAC and ESL by using a hardware board.
DOWNLOAD FOR FREE NOW
Our undetected and private CSGO cheats will help you dominate in your next casual or competitive game match.
ColossalCheats private CSGO hack comes packed with features like aimbot, wallhack, ESP and 2D radar. The CSGO cheat is fully undetected and safe to use with VAC, EAC, FaceIt and ESL.
Counter Strike Global Offensive Cheat Features:
The features offered on our CSGO hack are updated frequently, keeping track of the latest anti-cheat updates in the game. Getting those critical headshots, going on a killing spree, getting a technical advantage and staying one step ahead of your opponents in-game, is all made possible with our CSGO cheats.
AIMBOT
Aim and precision are critical in CSGO. Aimbot was created just for that very purpose. It is a unique type of cheat which boosts the player's mechanical functions, by locking your aim onto your targets heads automatically. This hack will make your life (and aiming skills) easier.
Headshots and critical shots are made easy with our 360-degree lightning speed CSGO Aimbot that locks onto your target. You could go rampaging and nullifying your opponents at a fantastic speed.
Detailed Features:
With just a push of a button, aimbot will help you stay locked onto your target. There is no escaping you from getting that kill.
Hardly any difference would be visible between a pro player and a game guided by Aimbot with its smooth locked on target feature. The Aimbot does the hard work for you. You only have to pull the trigger amigo!
Multiple kills are no longer an issue, with the mechanical ability of the aimbot to shift targets from one target to the other simultaneously.
You can customize the target lock range to max distance.
Aim lock – Enemies hiding behind objects are no longer a problem. With this feature, you are always one step ahead. Even with an object like a wall in front of you, standing as an obstacle, the aimbot locks onto your enemy (optional). Some pro players (flusha anyone?) has used this a lot.
With visibility checks, you would only be targeting people you can see. It means that as soon as your enemy walks close to your crosshair (in sight), he's dead. You would be the grim reaper of CSGO.
Aimbot Safety Tips
Avoid sporadic movements and keep it real, as they say. Set your CSGO aimbot settings to as stealth as you can if you want to stay undetected. You can't always get headshots. Avoid shooting your opponents through walls too much, and getting miraculous headshots only happens once in a while, not in every round. You are good to go once you get the hang of this.
DOWNLOAD FOR FREE NOW
WALLHACK
CSGO Wallhacks are a multi-functional cheat which offers a player with varied, new and impressive opportunities. It gives the advantage of visibility. Having this cheat at your disposal would help you see where your opponents are hiding. Nothing remains hidden – no surprises, no ambush. You will be able to make better choices; plot out a better plan of attack with this information.
Detailed Features:
Gives you X-ray visions, which will help you see enemies hiding behind walls waiting for an ambush. No one can get you off guard.
3D frames (not 2D rectangles) are used to depict your opponent's position which is more reliable and more informative. With this, you can predict your opponent's movements more accurately.
You can not only spot your enemies but also see, through which walls you can shoot. Pretty sleek right?
Additional information like the kind of weapon the opponent is using, health level, armor level, and the exact straight distance where an enemy is standing, are some of the information our CSGO wallhack will provide.
Safety Tips
Be natural and scout places where your opponents would most probably be hiding even though they are not there. At least pretend to a scout the location. This should go without saying, but don't waltz in and go on a killing spree from one location to the other shooting all your opponents through walls. It is not humanly possible to achieve this, not even for a pro player.
Play like any other CSGO player without wallhack would play.
EXTRA SENSORY PERCEPTION (ESP)
ESP is another CSGO cheat with multi-functional features. What can it not do? From giving off information about the enemy location to their Intel on health and weapon; ESP covers an array of functions. With all this information ESP provides you'll always be a step or two ahead of your opponent. They'll not know what hit them. With ESP, you can strategize better and make efficient in-game decisions.
Detailed Features:
It is a part of wall-hack and aimbot, but it can be used separately offering you some cool features. Let us explore what CSGO Santa has in his bag of goodies. ESP will let you know where your enemies are looking, whether they have armor or not and what weapons they are using.
This feature lets you spot enemies, guns, health and bomb on the radar. The cheat gives you data on all these, what you do after receiving these data is all up to you.
ESP hacks also lets you have heightened visibility of your enemies. For a better visual red outline over the enemy avatar, are used.
You will also get hold of other information like the pinpoint location and distance between you and your enemies, their health and even their armor score. All this data will help you get a better sense of your game.
There are also some neat features like bullet damage, enemy alert (warning would be triggered when an enemy gets close to you- it's like Spiderman's spider sense) and also the Intel on the enemy weapon.
It comes with customizable color schemes, type of data and transparency of the overlay.
Same ESP hack we use in our Valorant cheat.
Safety Tips
Try and use the data only when you need it. Just like with the CSGO wallhack, don't follow your opponent via your crosshair through walls. Dead players may be able to find something suspicious when you do this, always keep in mind that they can use death cam. Play smart!
DOWNLOAD FOR FREE NOW
RADAR HACK
Maps are the most integral part of the game. Radar hacks for Counter Strike Global Offensive will grant you access to locations of all the significant and minute details which aren't allowed in a game. With this, you could make pro-level strategies giving you a clinical and successful ambush.
Detailed Features:
It is like the 'magic mirror' which helps you locate where your enemies are on your CSGO radar display in-game.
It will also show you the location of your friend players.
The radar will also notify you when noises are made by someone, leaving off dotted trails behind them helping you track their location. It works far more efficient than a sniffer dog.
It comes with customizable features allowing you to change the size of the radar, adjust the position of the radar and transparency. It also comes in different color schemes.
You can also configure and select the things that you want your radar to display.
Tracking your enemies and allies position.
Tracking based only on Sound.
Keeping track of the opportunity to take a shot.
TRIGGERBOT
Triggerbot is a part of the aimbot and is also known as auto-shoot or auto-fire. This hack feature gives you an added advantage where it will automatically shoot for you in CS:GO.
Move your crosshair over your target, and it will fire when you would hit the mark. It increases your accuracy to 100%.
You can turn on or off this heightened ability anytime time you want.
Auto-Fire when crosshair detects your enemies heads.
MISCELLANEOUS
ColossalCheats CSGO hack also comes with many extra miscellaneous software features that we have listed below.
Player Warnings:
Here is a little more on the Spider-Sense. You can easily configure the distance of when the enemy warning sets off. You also have a signal for when your enemy has locked onto you. When this alarm goes off, you have to 'Skadoosh!' and disappear before your enemy rains down bullets.
Game Removals:
Recoils and spreads for bullets are removed, giving you accuracy and efficiency.
Fog, Smoke, and Flash removed.
You can turn off the effects of flash bang and smoke grenades.
Extras:
Anti Spawn – your opponents can't kill you when you spawn.
You can steal other player's name.
An easy to access 'Menu' option.
Miscellaneous features like customizable crosshair size, font size, panic key, and many more features to come in the future.
DOWNLOAD FOR FREE NOW
Bypass The Strongest Anti-Cheats With Hardware Boards
Our private CSGO cheats have been coded to work with non-local hardware such as hardware boards. By using a hardware board or the RubberDucky method combined with our cheat software, you can bypass even the strongest anti-cheats such as ESL and FaceIt.
If you want to bypass FaceIt, ESL or other strong/LAN anti-cheats, you need to use either of the two following methods:
Hardware boards
The Arduino UNO board looks like a small motherboard and can be loaded with software (such as private cheats) that inject when you plug it in via USB.
RubberDucky/BadUSB
This method consists of using the software RubberDucky and your mouse, keyboard, headset or any other hardware. It works by adding the cheat files into your mouse where it will inject from, leaving no traces of software running on your PC. The RubberDucky (or BadUSB) method also works with Android phones.
These two methods are similar to what Flusha and Forsaken used.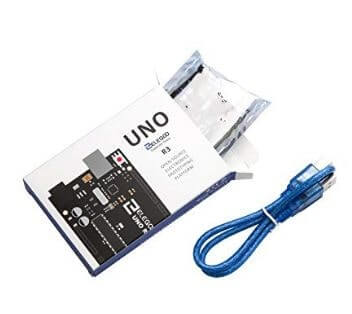 In order to bypass FaceIt and ESL, you need to use hardware hacks. Luckily, the price tag is not too hard on the wallet with it's $10 price tag. For VAC and EAC, no outside hardware is needed; just run the hack from your PC and have fun.
VAC
Valve Anti-Cheat can be bypassed with ease and does not require any outside hardware boards. Just run the hack and enjoy.
EAC
Just like VAC, Easy Anti-Cheat can also be bypassed without any hardware requirements. Just run the cheat from your local PC.
FaceIt
Our cheat can bypass FaceIt, both server and client-side; however this requires a hardware board to load the cheat into. This is to avoid the client-sided program.
ESL
ESL can be bypassed, but it definitely requires you to inject via hardware. We highly recommend using the RubberDucky method since boards can look suspicious.
Why Our CSGO Hack is Superior
ColossalCheats CSGO hacks are private, have all features ever needed and is completely undetected – Don't think about getting those "free hacks". Going after the free stuff is not safe and they usually contain malware.
They can (and probably will) also get you caught and banned from CS:GO. Choose ColossalCheats so you can feel secure and safe, knowing you won't get your PC infected or your Steam account banned.
There are lots of players out there who are not even half as good as you in Counter Strike: Global Offensive but play like pros – Here is a hint, they're using premium VIP hacks.
USER-FRIENDLY
ColossalCheats user friendly, easy to use CSGO hack-menu has an added advantage as you can change the cheat settings of the way you play anytime you want to. The easy to access menu is accessible simultaneously during your matchmaking/game play so you can change your aimbot, wallhack and other settings mid-game.
UNDETECTED
Our undetected CSGO cheat has been specially created to avoid being caught by anti-cheats. VAC and Overwatch will not be able to find anything suspicious in these cheats. The hacks provided here have been tested under various cheat detecting programs.
With our private cheats, you are safe. But remember, it is not just the quality of the cheat that matters: Play sensibly, play smart.
PRIVATE CHEAT
You've probably heard of Counter Strike: Global Offensive pros using private aimbots and hacks before, but never figured out where they get them from. Well, most is from us, since our cheats are 100% private between each hack sold – Stay safe with the use of ColossalCheats paid CSGO VIP hacks. Many of the top-ranked players are doing it; so why not you?
Frequently Asked Questions
We often get questions regarding our CSGO hack, so we've decided to publish them all here for your convenience.
How Does Your CSGO Hacks Work?
It's simple, you get two files with your cheat: An executable (.exe) and one dynamic link library (.dll), when you double-click the executable the dll file will inject into CSGO, making you be able to cheat.
The executable is the cheat injector, and the dynamic link library is the cheat iself. By clicking on the .exe file while running CSGO, you'll inject the cheat and you'll be ready to go.
To use this on FaceIt or ESL, please refer to the read me file that comes with the purchase of the cheat.
What Anti-Cheats Can It Bypass?
ColossaCheats private CSGO hack can bypass the following anti-cheats: Valve Anti-Cheat, Easy Anti-Cheat, FACEIT (client and server-side) & Overwatch. If you have any questions regarding this, feel free to contact us for more info.
Can I Only Use The Aimbot?
Yes, you can turn on and off any feature you'd like, at any time. Simply open the CS:GO hack menu and disable any feature you don't want to use. We have many users that prefer to only use aimbot, or only wallhack. You can also edit any settings you want such as FOV, ESP boxes and more within the menu.
Can A Friend Use My Cheat?
No! Only one cheat per steam account/PC. Our CSGO cheat will have your hardware and Steam ID integrated the first time you play, so there's no way off spreading our cheat around for free. This is the only way to keep our private cheats undetected.
What Operative Systems are Compatible?
We currently only have hacks working for Windows XP, Vista, 7, 8 and 10. You can still use our CSGO hacks on Apple/Mac, you just need to install Windows on a separate partition.