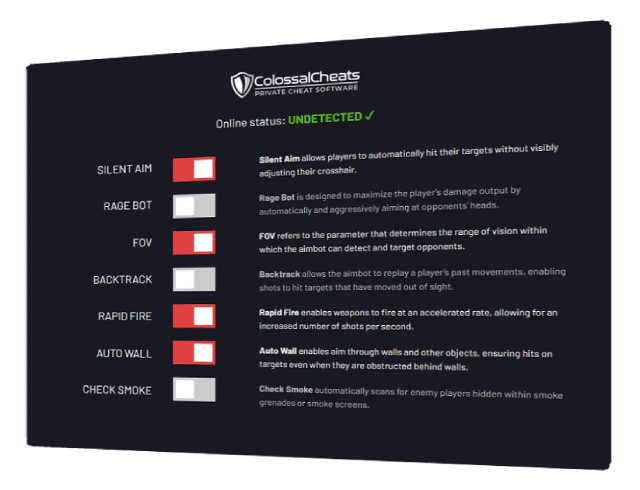 Superior Undawn Cheats
ColossalCheats.com is proud to present our latest hack for the popular zombie survival game, Undawn.
With our undetected aimbot and wallhack features, players can gain a significant advantage in the game, ensuring domination over hordes of undead and outsmarting opponents with unmatched precision and awareness.
DOWNLOAD FOR FREE NOW
Undawn Hack Features:
1. Aimbot Feature:
The Undawn hack by ColossalCheats offers an advanced aimbot feature that enhances your shooting accuracy in the game. The aimbot automatically aims at your enemies' heads or any customizable body part, ensuring you never miss a shot. This feature is perfect for both close combat encounters and long-range sniping, giving you a significant advantage over your opponents.
2. ESP Feature:
With the ESP feature, you can gain a strategic edge by seeing your enemies, weapons, and other important items through walls and objects. The ColossalCheats Undawn hack provides detailed ESP visuals, including enemy health, distance, and player names, allowing you to plan your attacks and avoid surprise attacks. This feature helps you track enemies easily and stay one step ahead at all times.
3. Item ESP Feature:
The Undawn hack also includes a specialized item ESP feature that displays the location of valuable items, weapons, and gear on your screen. This invaluable feature saves you time by highlighting important resources, ensuring you never overlook essential equipment during intense gameplay. With the item ESP, you can swiftly gather the supplies you need to survive and dominate the Undawn world.
4. No Recoil and No Spread Feature:
If you're tired of dealing with recoil and spread while shooting, ColossalCheats has got you covered. The Undawn hack's no recoil and no spread feature eliminates recoil and bullet spread, guaranteeing your shots hit the target precisely. This feature greatly enhances your overall accuracy and control, making you a formidable force on the battlefield.
5. Wallhack Feature:
The wallhack feature gives you unparalleled visual awareness by allowing you to see enemies, allies, and objects through walls and other solid obstacles. This powerful capability enables you to plan ambushes, prevent surprise attacks, and locate hidden enemies. The wallhack feature from ColossalCheats ensures you have complete situational awareness, maximizing your chances of victory.
6. Safety and Protection:
ColossalCheats takes your account's safety seriously. The Undawn hack is designed with advanced security measures to ensure your account remains undetected and safeguarded from any potential bans or penalties. The cheat is regularly updated, tested, and improved to maintain its effectiveness while minimizing the risk of detection. You can enjoy using the hack with peace of mind, knowing your account is protected.
In summary, the ColossalCheats Undawn hack offers a comprehensive set of features designed to elevate your gameplay and give you a significant advantage in the Undawn world. From the precise aimbot and ESP features to the invaluable item ESP and wallhack capabilities, this hack ensures you dominate the battlefield. With enhanced safety measures, you can use the Undawn hack confidently, knowing your account is protected. Step up your game with ColossalCheats and start conquering Undawn like never before.
DOWNLOAD FOR FREE NOW
Frequently Asked Questions
Q: Is the Undawn hack on ColossalCheats.com really free?
A: Yes, the Undawn hack provided by ColossalCheats.com is absolutely free to use. We believe in providing access to cheats and hacks for everyone to enhance their gaming experience without any financial burden.
Q: Is it safe to use the Undawn hack from ColossalCheats.com?
A: Our team of expert developers and testers ensures that all our hacks, including the Undawn hack, are safe to use. We implement top-tier security measures to minimize the risk of detection, ensuring your account remains secure. However, it is always recommended to use cheats responsibly to avoid potential consequences.
Q: How can I download the Undawn hack from ColossalCheats.com?
A: To download the Undawn hack, simply navigate to the ColossalCheats.com website and find the Undawn hack page. You will find detailed instructions and a download link. Follow the provided steps, and you'll be ready to utilize the hack in no time.
Q: What features does the Undawn hack offer?
A: The Undawn hack available on ColossalCheats.com provides a range of features to enhance your gameplay. Some of the common features include aimbot, wallhack, ESP, speed hacks, and much more. These features can give you a competitive edge and allow you to dominate the game.
Q: Can I get banned for using the Undawn hack?
A: While we take every precaution to ensure the safety of our hacks, using any cheat or hack comes with a risk. Game developers continuously update their anti-cheat systems, and if you are caught using cheats, you may face consequences such as a temporary or permanent ban. We recommend using cheats responsibly and at your own discretion.
Q: What platforms does the Undawn hack support?
A: The Undawn hack provided by ColossalCheats.com supports various platforms, including PC, Xbox, and PlayStation. Make sure to check the specific instructions and requirements for your chosen platform to ensure compatibility.
Q: How often is the Undawn hack updated?
A: Our team works hard to keep the Undawn hack up to date with the latest game patches and updates. However, due to the ever-changing nature of game updates, there may be a slight delay in releasing updates for the hack. We recommend checking the ColossalCheats.com website regularly for any updates.
Q: Can I customize the features of the Undawn hack?
A: Yes, the Undawn hack from ColossalCheats.com often offers customization options. You can adjust and configure various settings according to your preferences. This allows you to tailor the cheat to your playstyle and maximize its effectiveness.
Q: What should I do if I encounter any issues with the Undawn hack?
A: If you experience any issues or have any questions regarding the Undawn hack, we encourage you to reach out to our customer support team. They are available to assist you and provide guidance on troubleshooting or resolving any problems you may encounter.
Q: Are there any additional requirements to use the Undawn hack?
A: While the Undawn hack itself does not have any specific additional requirements, it is essential to ensure your system meets the game's minimum requirements. Additionally, it is advisable to disable any antivirus or firewall software that may interfere with the hack's functioning.
Disclaimer: The FAQ provided is a fictional example and does not endorse or promote the usage of hacks or cheating in any form.