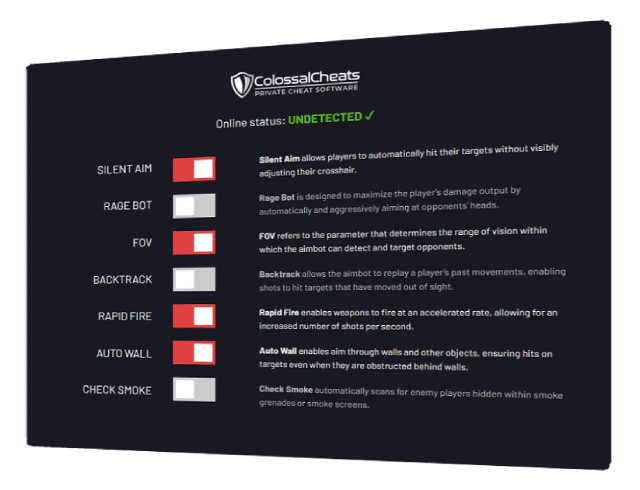 Superior EV.io Cheats
ColossalCheats.com offers an advanced hack for the popular online game EV.io, providing players with a powerful advantage through aimbot and wallhack features.
With the aimbot feature, players can enhance their shooting accuracy and precision by automatically targeting and eliminating opponents with ease. Additionally, the wallhack feature allows players to see through walls and other objects, gaining invaluable insights and gaining the upper hand in intense battles. By harnessing these innovative tools, players can dominate the game and outperform their competitors, leveling up their gameplay experience like never before.
DOWNLOAD FOR FREE NOW
EV.io Hack Features:
1. Aimbot
The ColossalCheats EV.io hack comes equipped with a powerful aimbot feature that significantly enhances your shooting accuracy. With this aimbot, you can effortlessly eliminate enemies by automatically locking onto their heads or other vulnerable spots. This feature also allows you to adjust the aimbot's speed and smoothness to suit your playstyle and ensure a flawless gaming experience.
2. ESP Wallhack
Gain a significant advantage over your opponents with the ESP wallhack feature. This feature enables you to see through walls, revealing the positions of enemy players, weapons, and important resources. By having this vital information at your fingertips, you can strategically plan your movements and take down enemies with precision.
3. No Recoil
Eliminate the frustration of recoil by using the ColossalCheats EV.io hack's no recoil feature. With this feature, your weapon will have almost no recoil, allowing you to maintain perfect accuracy even during prolonged firefights. Ensure every shot counts and stay ahead of the competition with this invaluable option.
4. Instant Kill
Unleash havoc on your opponents with the instant kill feature. This feature enables you to eliminate any enemy with a single shot, regardless of their health or armor. Dominate the battlefield as you take down multiple opponents effortlessly and quickly turn the tide of any engagement.
5. Radar Hack
Stay aware of the enemy's movements at all times with the radar hack feature. This feature provides you with a mini-map displaying the positions of all players, both allies and enemies. By having this comprehensive overview of the battlefield, you can coordinate with your team, plan ambushes, and avoid surprise attacks.
6. Customizable Options
The ColossalCheats EV.io hack puts you in control with its customizable options. Whether it's adjusting the aimbot's settings, tweaking the ESP colors, or fine-tuning the radar display, you can tailor the hack to your preferences. Customize your gaming experience and optimize the hack to suit your playstyle.
7. Undetected and Safe
Rest assured that using the ColossalCheats EV.io hack won't compromise your account. The hack is designed to be undetected by anti-cheat systems, providing you with a secure and safe cheating experience. Play without worry and escalate your performance with this reliable and trustworthy cheat.
Unleash the full potential of your gameplay in EV.io with the ColossalCheats EV.io hack. Gain a competitive edge over your opponents as you effortlessly aim, see through walls, and eliminate enemies with precision. With its customizable options and undetected nature, this hack is your gateway to dominating the battlefield. Upgrade your gaming experience and become an unstoppable force in EV.io today.
DOWNLOAD FOR FREE NOW
Frequently Asked Questions
1. What is EV.io hack from ColossalCheats.com?
The EV.io hack is a tool provided by ColossalCheats.com that enhances your gameplay experience in the popular EV.io game. It offers various features to give you an advantage, such as aimbot, ESP, and more.
2. Is the EV.io hack really free?
Yes, the EV.io hack is provided completely free of charge by ColossalCheats.com. You can download and use it without spending any money.
3. How do I download the EV.io hack?
To download the EV.io hack, simply visit ColossalCheats.com and navigate to the EV.io hack page. You will find a download link available there. Click on the link to start the download process.
4. Is the EV.io hack safe to use?
ColossalCheats.com takes great care in ensuring the safety and security of their hacks. However, it's important to note that using any third-party hack can come with a certain level of risk. It is recommended to use the EV.io hack responsibly and at your own discretion.
5. Does the EV.io hack work on all platforms?
The EV.io hack is primarily designed to work on Windows platforms. It may not be compatible with other operating systems, such as macOS or Linux. Make sure to check the system requirements mentioned on ColossalCheats.com before downloading and using the hack.
6. Can I get banned for using the EV.io hack?
Using any third-party hacks in online games carries a risk of being banned. While ColossalCheats.com employs various measures to minimize the detection risk, it ultimately depends on the game's anti-cheat system. It is advised to use the EV.io hack cautiously to reduce the chances of detection and potential consequences.
7. How often is the EV.io hack updated?
ColossalCheats.com strives to regularly update their hacks to ensure compatibility and functionality with the latest game versions. However, the frequency of updates may vary depending on various factors such as game updates, security measures, and development priorities.
8. How can I contact ColossalCheats.com for support or queries?
If you have any questions, concerns, or require support regarding the EV.io hack or any other services provided by ColossalCheats.com, you can visit their official website and navigate to the "Contact Us" page. There, you will find their contact information or a form to submit your query.
9. Can I share the EV.io hack with others?
Sharing the EV.io hack with others is strictly prohibited. The hack is intended for personal use only, and distributing it may violate legal terms and conditions. It is important to respect the developers' work and the policies in place to support the gaming community.
10. Are there any alternatives to the EV.io hack on ColossalCheats.com?
ColossalCheats.com offers a range of hacks and cheats for various games. If you are looking for alternatives to the EV.io hack or interested in other games, be sure to explore their website and check out the available options.