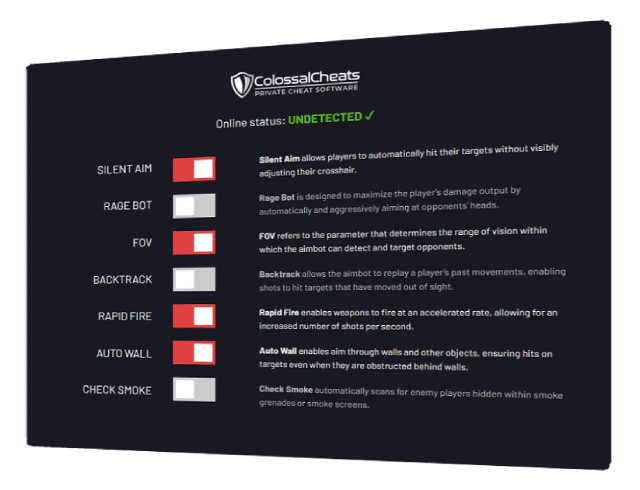 Superior Dread Hunger Cheats
ColossalCheats.com offers a powerful hack for the popular game Dread Hunger, equipped with aimbot and wallhack features.
With our Dread Hunger hack, players can gain an unfair advantage by automatically locking onto enemies with precise aim and seeing through walls, making victory inevitable.
DOWNLOAD FOR FREE NOW
Dread Hunger Hack Features:
1. ESP (Extra Sensory Perception):
ColossalCheats Dread Hunger hack offers an ESP feature that gives you a significant advantage over other players. With ESP, you can see the locations of important items, such as food, weapons, and supplies, making it easier for you to survive in the game. This feature also allows you to locate other players, helping you plan your strategies accordingly.
2. Aimbot:
The Dread Hunger hack's Aimbot feature enhances your shooting accuracy by automatically aiming and locking onto your targets. This ensures that every shot you take hits the desired target, increasing your chances of eliminating opponents and staying at the top of the game. The Aimbot feature is highly customizable, allowing you to adjust its settings based on your preferences.
3. Radar Hack:
The Radar Hack feature in ColossalCheats Dread Hunger hack provides you with a real-time overview of your surroundings. With this feature, you can see the locations of other players, even if they are out of your line of sight. This allows you to stay one step ahead of your enemies, making it easier for you to ambush them or avoid confrontations when necessary.
4. Speed Hack:
With the Speed Hack feature, you can move at an increased speed, giving you a considerable advantage during both chases and escapes. This feature allows you to navigate the game world swiftly, allowing you to reach your objectives faster or outrun opponents who might be chasing you. However, it is important to use this feature with caution to avoid drawing unnecessary attention from other players and potentially raising suspicions.
5. No Recoil:
The No Recoil feature in the Dread Hunger hack eliminates the weapon recoil, ensuring that your shots remain accurate and on target. By removing the recoil effect, this feature allows you to maintain a steady aim, even when firing continuously. This significantly improves your shooting efficiency, granting you an advantage in combat situations.
6. Safe and Undetected:
ColossalCheats ensures that all Dread Hunger hack features are developed with safety and security in mind. The hack is designed to remain undetected by the game's anti-cheat systems, minimizing the risk of being banned or penalized. By using advanced security measures and regular updates, ColossalCheats maintains the integrity of the hack, providing you with a safe and reliable cheating experience.
In conclusion, the Dread Hunger hack features offered by ColossalCheats provide players with a range of powerful tools and advantages. These features, including ESP, Aimbot, Radar Hack, Speed Hack, No Recoil, and the emphasis on safety, contribute to enhancing your overall gameplay experience in Dread Hunger. However, it is crucial to use these features responsibly and respectfully to maintain a fair gaming environment for all players.
DOWNLOAD FOR FREE NOW
Frequently Asked Questions
1. Is the Dread Hunger hack from ColossalCheats.com really free?
Yes, the Dread Hunger hack provided by ColossalCheats.com is completely free to use. You can access and utilize all the features without spending any money.
2. How can I download the Dread Hunger hack?
To download the Dread Hunger hack, simply visit the ColossalCheats.com website and navigate to the relevant game section. Look for Dread Hunger and click on the download button. Follow the on-screen instructions to complete the download and installation process.
3. Is there a risk of getting banned while using the hack?
While ColossalCheats.com takes measures to minimize the risks, using any hacks in online games comes with a certain level of danger. It is crucial to follow the instructions provided with the hack to minimize the risk of detection and potential penalties. Additionally, it is advised to use the hack discreetly and responsibly to further reduce the probability of being banned.
4. What features does the Dread Hunger hack offer?
The Dread Hunger hack from ColossalCheats.com provides a variety of features to enhance your gameplay. Some of the features included are aimbot, wallhack, ESP (Extra Sensory Perception), no recoil, and more. These features provide you with an advantage while playing Dread Hunger, making it easier to navigate, locate enemies, and improve your overall performance.
5. Can I use the Dread Hunger hack on any system?
The compatibility of the Dread Hunger hack may vary depending on the platform. You should ensure that the hack supports the operating system you are using. ColossalCheats.com provides information about the supported platforms for each hack, so make sure to check before downloading.
6. How often is the Dread Hunger hack updated?
ColossalCheats.com strives to provide regular updates for all their hacks, including the Dread Hunger hack. Updates are done to ensure compatibility with game updates, as well as to add new features or improve existing ones. It is recommended to check the website periodically for any updates and install the latest version to benefit from the most recent enhancements.
7. Can I get assistance if I encounter any issues with the hack?
Absolutely! ColossalCheats.com values their users and offers support for any issues or queries related to their hacks. You can reach out to their customer support through the contact information provided on their website, such as email or live chat. The support team is dedicated to helping you resolve any problems you may encounter.
8. Is it safe to use the Dread Hunger hack from ColossalCheats.com?
ColossalCheats.com takes the safety and security of their users seriously. They implement various measures to ensure that their hacks are safe to use. However, it is important to note that using any hacks in online games always carries some risks. It is crucial to follow the provided instructions and use the hack responsibly to minimize any potential harms.
9. Are there any limitations on using the Dread Hunger hack?
ColossalCheats.com does not impose any major limitations on using their hacks. However, it is advised to use the hack sparingly and avoid any suspicious or blatant usage that may draw attention. By using the hack responsibly, you can enjoy the benefits without encountering any issues.
10. What other hacks are available on ColossalCheats.com?
ColossalCheats.com offers a wide range of hacks and cheats for various popular games. You can find hacks for games like Apex Legends, Counter-Strike: Global Offensive, Fortnite, Valheim, and many more. Visit their website to explore the full list of supported games and the respective hacks available for each one.